Córdoba welcomes you with open arms and invites you to embark on a journey through the province's most outstanding places. This guide includes the places you cannot miss on your visit.
It is your ticket to immerse yourself in its charming architecture and majestic landscape, which will captivate you on each of your excursions. Are you ready to experience the magic that Córdoba has to offer you on your visit? Don't wait any longer and start planning your trip. Don't forget to add the following destinations to your agenda!
1- Córdoba Capital
What better way to start your journey than by visiting one of Argentina's most iconic cities? It is none other than the capital of the province.
Unfortunately, this city can sometimes go unnoticed by tourists as they prefer to explore other areas of the province. However, this gem has a lot to offer you, so it deserves to be explored closely.
Don't miss out on discovering its history, magic, and charm. In Córdoba, we can find surprising colonial architecture, which is reflected and can be observed mainly in the surroundings of Plaza San Martín, where the commercial center is also located.
In front of the square, you will also see emblematic buildings such as the Cabildo and the Cathedral of Our Lady of the Assumption. To enrich yourself with culture, these architectural wonders will make you feel as if you were transported back in time to that era.
If you are attracted to handicrafts, you cannot miss the Paseo de las Artes, a handicrafts fair where you can take a tour of the stalls. Don't forget to bring cash in case you like a local product and want to buy it as a souvenir. It also offers the option of enjoying the typical food offered by the vendors. If you enjoy watching shows, you can appreciate the street performances of dancers and artists.
Another incredible option is El Paseo del buen Pastor, which will invite you to enjoy a delicious meal and appreciate the show of dancing waters that will undoubtedly leave you amazed. If you like the night, you have found the perfect city, as it has a great nightlife full of bars and nightclubs. Of course, if you visited Córdoba capital, to take away the complete Cordoba experience, you cannot leave without trying a good Fernet with Coca-Cola listening to cuarteto.

2- Villa Carlos Paz
This city, known as "The Pearl of the Sierras", is located just 30 minutes from the city of Córdoba. Located in the Punilla Valley, on the shores of Lake San Roque, it offers multiple options for water sports enthusiasts.
We recommend not missing the chance to take a catamaran ride along the entire length of this body of water. You can find options and choose the one that best suits your needs; if you want to have fun, some tours include musical shows, to dance and drink delicious cocktails that will be offered on your ride.
But if on the contrary, what you want is tranquility and enjoy the ride, other options offer delicious food and a serene atmosphere so you can relax, enjoy and take pictures of the beautiful postcards. But that's not all, there's more!, in this town, as its name indicates, it is surrounded by the majestic mountains, which will also allow you to expand your range of activities.
If you like heights, hiking and getting a privileged view of the city, don't miss the chance to climb Cerro de La Cruz, the highest peak in Carlos Paz, which is 1000 meters high and has an easy access that will allow you to reach it comfortably.
For a more enriching experience, we recommend taking the guided tour, in which they will not only place you in the history of the city and Lake San Roque, but if you are dazzled by the vegetation, they will also provide you with information about the local flora and fauna. To be able to enjoy all these activities to the fullest, we recommend visiting it in the spring and summer months.
We will also delve a little into the urban life of this city, to be able to know it from another perspective that will surely delight you. We will start the tour on Avenida San Martín, the most important street in the city, where you can find a wide range of gastronomy.
You cannot leave here without having known and taken a picture of the iconic cuckoo clock, considered the largest in the world. As its name suggests, a friendly bird located in the clock will tell you the hours of the day.
This charismatic city stands out for its nightlife and the variety of options it has to offer. If you are looking for night fun, the casino could be one of the best options for you, as in addition to its incredible gaming machines, it is located in a location surrounded by bars and theaters so that the fun never stops.
Another option is the nightclubs, considered to be among the best in the country. We leave you below some that you should go to know and of course, dance all night: Keops, Molino Rojo and Khalama, each one has its own peculiarity that makes it unique.
We hope you have a lot of fun in this charming city!

3- La Falda
If you want to spend an unforgettable few days, we recommend visiting this destination, which perfectly combines nature, entertainment, and culture. This town is located in the Punilla Valley. It is located 67 kilometers north of the city of Córdoba. Here we will leave you your key itinerary of essential visits before you continue on your way to the next destination.
We will start with the outdoor activities that you can enjoy among the hills and trails and the natural jewels that you must know. Your must-do walks are definitely through Cerro La Banderita and El Camino del Dragón, which have different difficulties and will take you a different amount of time. We tell you a little about what each one is about so you can choose the one that best suits your needs.
If you really enjoy hiking, the first option is for you. This route can be a bit more complex, as it has an intermediate difficulty and around 4 hours of climbing, but the incomparable view from its viewpoint compensates for everything.
On the other hand, the second option offers you a more relaxed walk, with low difficulty. You will arrive much faster, in 1 and a half hours walking, and if you want to arrive even faster, you can take your vehicle. On our website, we offer you the best vehicles so you can get there quickly and safely.
On the high plain Pampa de Oláen, many more adventures await you among waterfalls, rivers, and caves. For a unique underground adventure, we recommend visiting El Sauce. Another incredible natural attraction, full of fun, that you cannot miss is the Las Siete Cascadas complex.
If you visit La Falda, you cannot miss its horseback riding, which we recommend because it will be a unique experience to explore all the landscapes in an unforgettable way.
Now, take note, because on your cultural walk you cannot miss your tour of the mythical Museo Hotel Edén, which in its early days gave rise to La Falda. You can have a guided tour during the day or at night according to your preference, and if you are a sports enthusiast, do not forget to visit the first Argentine sports museum.
Due to its special climate, you can visit the province at any time, but we recommend visiting it during its regional festival season, so as not to miss the opportunity to taste and delight in each of its local dishes in a great celebration full of music and dance.
Note the most important events on your agenda: La Fiesta Nacional del Alfajor, held in October. La Falda Rock in November and La Falda Bajo Las Estrellas in January and February.

4- Alta Gracia
Did you like the culture of Córdoba but still want to learn more? If so, perfect, we welcome you to the land of cultural, religious, and historical walks; it is Alta Gracia, one of the closest tourist destinations to the capital, just 40 minutes away.
We will begin our tour by visiting its attractive historic center, where you can visit one of the five Jesuit Estancias. This estancia has been converted into a museum so that you can learn about life during the colonial era. You will find objects from centuries ago that will undoubtedly capture your attention completely.
This place is located on the shores of Lake Tajamar, an artificial dam that offers you the opportunity to enjoy the outdoors and next to the iconic and historic public clock. You can also visit the Church of Our Lady of Mercy, which is located in front of the main square, and plays a very important role in the religious life of the cordobans.
To finish and complete your cultural tour, do not forget to visit the emblematic museums, the Municipal Archaeological Museum that will tell the history of the indigenous peoples through the collection of archaeological objects from the time, the Gabriel Dubois House-Workshop where you will find the rescued works of this sculptor, the Manuel de Falla Museum that commemorates the life and work of the composer, and the renowned Casa del Che Museum, where you can appreciate testimonies, letters, manuscripts, photographs, and personal objects.
You can get information to purchase a pass to visit these museums in the tourism section of Alta Gracia.
In addition to its important historical monuments, let us not forget that this city also has beautiful landscapes. We offer you a variety of outdoor activities, for those who enjoy hiking, the province has walking and hiking trails of different difficulty levels to adapt to your abilities, we recommend bringing comfortable clothes and shoes, water, and if there is a lot of sun, do not forget to put on your hat and sunscreen.
Another proposal to experience is horseback riding through the estancias; there is a family business that offers tours of the mountain landscapes with guides.
This immersive experience will make you fall in love with the flora and forests of the region.
You will find different horseback riding options and you have the option of completing your experience with lunches or snacks on the banks of the river. If you want to get away from the urban area, we recommend walking along the banks of the Arroyo Los Paredones, where you will find campsites to spend the day.
In addition, if you want to continue your tour, you will reach the Sanctuary of the Virgin of Lourdes, located in a large green area, where you can enjoy an afternoon in its parks.
Among its cuisine you can appreciate a great diversity, however, one of the must-sees that we recommend is to have tea or coffee in a historic hotel from the early 20th century. Another recommendation is to visit the annual meeting of the communities where you can taste different dishes from different countries of the world, immerse yourself in the culture and enjoy live shows.
We hope you have a great time in this charming city!

5- Mina Clavero 
In this last section, we offer you a proposal to connect with nature through the beauty of its landscapes and the peace that its river transmits. We are talking about Mina Clavero, considered one of the seven natural wonders of Argentina.
Located 160 km from the city of Córdoba, this town offers you a myriad of options to enjoy your stay: from trekking trails and other adventures to a vibrant nightlife. If you are wondering what you can do here, below we will leave you the activities that we consider you cannot miss before finishing your trip.
As we know, Mina Clavero is known for its beautiful oasis of crystal-clear water, that's why, to spend the best afternoons, we recommend visiting its spas, and if you like, why not do amazing water activities, such as exploring these beautiful waters in a kayak or diving in the Los Dioses spa, which has a great depth.
You can visit different spas that fit your preferences. If what you are looking for is to relax and enjoy the scenery, we recommend visiting the spa "La Residencia" which has calm waters of low depth and a small waterfall ideal for some fresh massages and complete relaxation.
If you like to go for walks, connect with the landscapes and appreciate the panoramic views, this town offers trails for you to go trekking, one of the options is the Cerro de la Altas Cumbres, which will allow you to visualize the waterfall where the Mina Clavero River is born.
Another option is a spa and rest stop called El Toro Muerto, which not only offers the possibility of going for a walk but also for adrenaline lovers. It has options to cross the stream by zip line or rappel. It also provides you with all the comforts as it has barbecues, toilets, parking lot, bar service and gastronomy.
If you have an adventurous spirit and are passionate about nature, we offer you a variety of places to discover: from the majesty of Cerro Champaquí to the surprising Los Túneles walk that will leave you amazed.
Of course, not everything is nature, you can also find cultural activities, there are museums for all tastes. For those who love plants, you can visit the Cactus Museum, and for those who love collections, the Munitions Museum.
To enjoy the local cuisine, we suggest trying the typical dishes such as empanadas, barbecue, and locro. We invite you to know this restaurant and delight yourself with a tasty experience: if you feel like trying a delicious barbecue, Restaurante Mi Lugar is a very good option.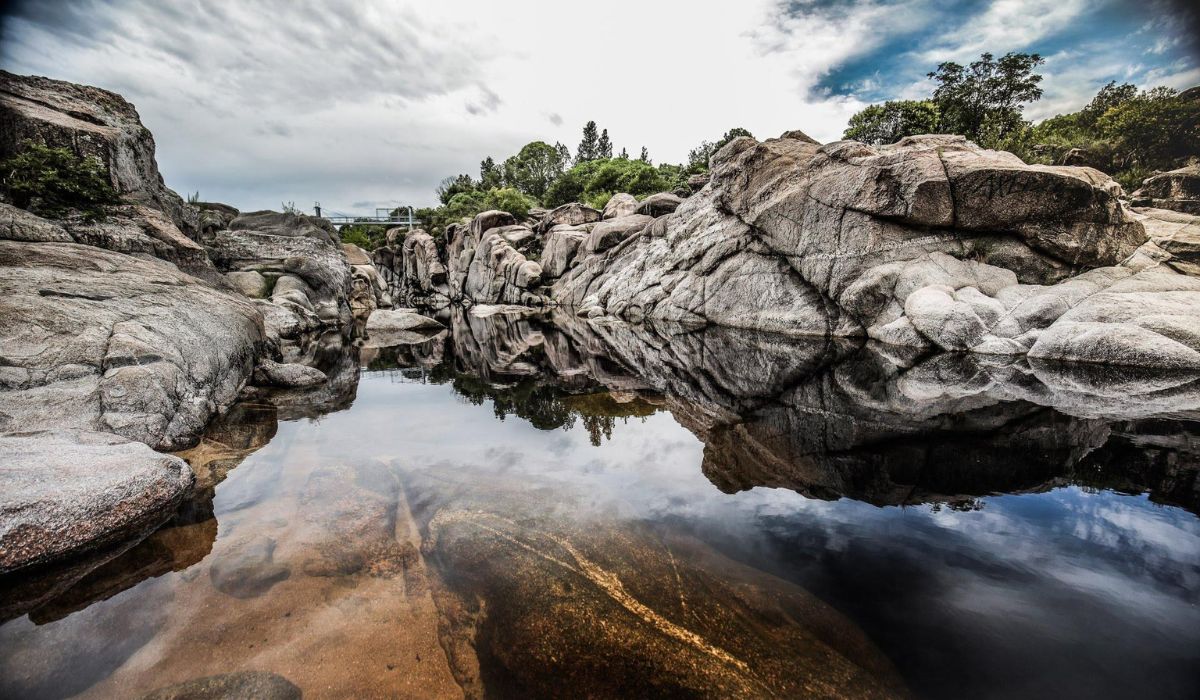 Would you like to experience the complete Córdoba experience? As we showed you in this article, this province is full of natural, cultural, and urban wonders that you cannot miss.
Each town, different from each other but with its unique attractions that characterize and make it unique, is why you cannot miss any. Rentennials offers you the possibility to rent a vehicle that suits your needs, giving you the possibility to complete your trip, move around the city safely, and not miss any activity.
We offer you the possibility to explore every corner at your own pace and convenience. Don't wait any longer and start planning your trip with Rentennials.
Rentennials is the new way to rent cars from local hosts in your city, quickly, easily, and affordably. It's also your new path to starting your own car rental business and making money every month.
Discover more.
Aplicación móvil
Download our App