Buenos Aires, the famous capital of Argentina, is as wide and varied as the activities it offers, with a lot of culture, flavors, and unforgettable experiences. In this note, we will tell you 5 activities to do each day and everything you need to know about them to visit them.
Explore the San Telmo neighborhood
San Telmo is one of the most emblematic neighborhoods in Buenos Aires, as it offers many activities, a large number of bars and restaurants serving authentic Argentine food, and it is famous for its colonial architecture, cobblestone streets, and bohemian atmosphere.
On Sundays, the San Telmo Fair comes alive with stalls selling antiques, handicrafts, and live tango performances.
In Plaza Dorrego, from 6 pm, two typical couples give a demonstration of tango and milonga, inviting the public to dance until 10 pm. Milonga is a faster rhythm than tango.

Visit the La Boca neighborhood and Caminito
Another jewel of the city is the colorful La Boca neighborhood, known for its famous pedestrian passage, Caminito. This place is a paradise for art and culture lovers, with brightly colored houses and numerous art galleries. In addition, you can enjoy the passion of football by visiting the Boca Juniors stadium, La Bombonera.

Immerse yourself in history in the Montserrat neighborhood
The Montserrat neighborhood is home to the most important points of the city of Buenos Aires, impossible not to visit them:
Headquarters of the Argentine government
Metropolitan Cathedral
Plaza de Mayo: an important civic center and site of historical protests.
National Historical Museum and the Museum of Modern Art: unmissable destinations for history and art lovers.

Visit the Colón Theater
The imposing Colón Theater is considered one of the five best opera houses in the world. This is due to its excellent acoustic design and its high architectural level. This place was originally conceived as an exclusive theater for opera, although today it also exhibits symphony concerts and classical dance throughout the week.

Savor the best Argentine beef at Don Julio restaurant
Don Julio's grill is a prestigious grill in Palermo, Buenos Aires, known for its authentic Argentine cuisine and succulent cuts of meat, being one of the best 50 restaurants in the world where the best footballer, Lionel Messi, ate. Don Julio is located at Guatemala 4691, attracting tourists and locals.
It specializes in Argentine barbecue, offering cuts such as bife de chorizo, asado de tira, and entraña. In addition, its empanadas and other food options complement the culinary experience. The extensive list of Argentine wines includes varieties from Mendoza, Salta, and San Juan.
The friendly and attentive service at Don Julio is combined with a rustic and traditional setting.
To secure a table at this popular Palermo restaurant, it is essential to make reservations in advance.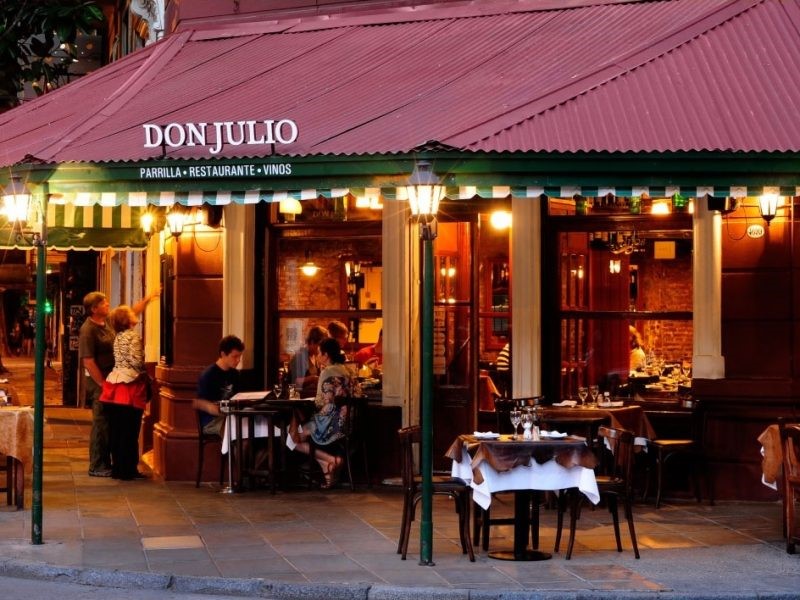 Buenos Aires offers a unique experience full of culture, history, and flavor. These 5 activities are just the beginning of what this fascinating city has to offer. Immerse yourself in the authentic Argentine culture during your visit!
Rentennials is the new way to rent cars from local hosts in your city, quickly, easily, and affordably. It's also your new path to starting your own car rental business and making money every month.
Discover more.
Aplicación móvil
Download our App